| | |
| --- | --- |
| Hard Rock Nassau | |
Hard Rock Cafe Nassau — CLOSED
Established: 10/21/2003 — Disestablished: 3/16/2020
Former Address: Charlotte Street North, Nassau, Bahamas
My first visit visit: July 6th, 2012

Notes...
CLOSED: 3/31/2014, REESTABLISHED: 5/22/2014
Nassau is a classic cafe that's filled to the rafters with lots of rock memorabilia. As it's an "old school" property, it features the original Hard Rock "signature look" that all the original cafes enjoy.
Located in downtown Nassau near the cruise ship terminal, the cafe is ideally situated for visitors with limited time in town. The only negative is that there's a Senior Frogs just down the street which sucks in everybody like a magnet and is always packed, while the Hard Rock was practically vacant both times I ate there. I can't help but think that adding a giant guitar and some theming to the outside of the property would help attract customers, because it's fairly generic and missable as it is.
Entry to the restaurant on the upper level is through a stairway next to the gift shop on the lower lever. The cafe itself is basically one giant room that is visually divided into a dining room (tablecloths on the tables) and bar (no tablecloths). There is balcony seating outside, but it was way too hot for sitting out there when I visited. The staff was friendly, but seemed oddly distracted on both my visits. It seemed to take forever for somebody to take my order… and forever again to bring me my check when I was finished.
After all is said and done, this is a fairly middle-of-the-road cafe. Yes, it has a nice smattering of memorabilia and that classic styling I love… but it also felt generic on the outside and low-energy on the inside. I can't help but think that if they were to regroup and retool the place it would be much better competition to nearby Senior Frogs, because now it's dangerously close to boring, which is the kiss of death for any Hard Rock.

Photos…

Looking left at the main dining floor.
Looking right at the bar area.
The Rock Shop on the first floor.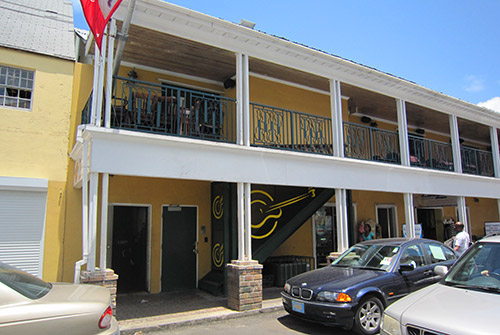 The end opposite the entrance end, closest to the cruise port.
Location Map...
Former Address: Charlotte Street North, Nassau, Bahamas
Former Coordinates: 25.078612287708395, -77.34171688556671