| | |
| --- | --- |
| Hard Rock Four Winds | |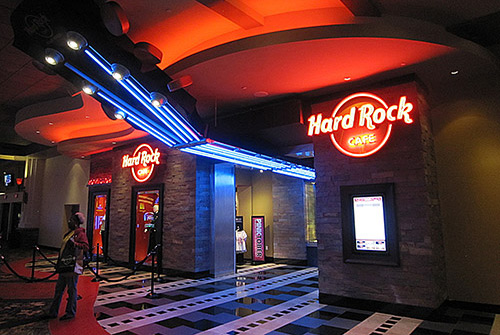 Hard Rock Cafe Four Winds — CLOSED
Established: 7/11/2012 — Disestablished: 10/31/2020
Former Address: 11111 Wilson Rd., New Buffalo, MI 49117
My first visit visit: September 8th, 2012

Notes...
This is another casino add-on cafe (
like Foxwoods
) that's a quick 1-1/2 hour drive from Chicago. Established by the Pokagon Band of Potawatomi Indians, Four Winds can be found just outside New Buffalo, Michigan.
Located on the west side of the building complex, the cafe is a double-layer property that is much larger than I expected. The lower floor has a large bar area with a second smaller bar located upstairs. The style of the cafe is kind of hard to pin down. It has elements from the shitty "new-style" cafes that look like some kind of hipster lounge… but it's been mercifully toned down to a more classic look. Even better, there's quite a bit of rock memorabilia, which has been badly lacking in the "new-style" properties. Overall, a pleasant surprise. Not as great as the older properties which helped to define the "Hard Rock look," but a drastic improvement over the later properties that have been popping up. My only complaint was the design of the "Rock Shop" which is doesn't have good "flow" and forces all traffic through a single opening. This would make it difficult to shop here if the place was packed.
I visited the day after their grand opening (which, sadly, was a private event) and found the staff to be quite friendly. They were nice enough to give me my Pin Club discount even though the program has been canceled, because they understood the transition to the new "Hard Rock Rewards" program was in flux.
As for the Four Winds Casino itself… it's absolutely beautiful. Gorgeous wood construction and accents make for a warm, earthy feel. They then artfully blended in some very nice stone work and tribal decorations. I was very much impressed.

Photos…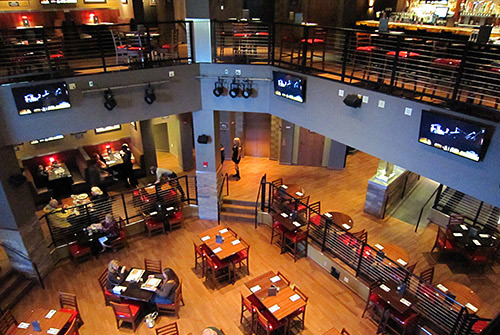 Looking down at the main dining floor.
Bar seating area with LOVE ALL SERVE ALL wall.
A nice selection of memorabilia packed on the wall.
As you walk into the cafe, there's a nice selection of costumes in glass cases.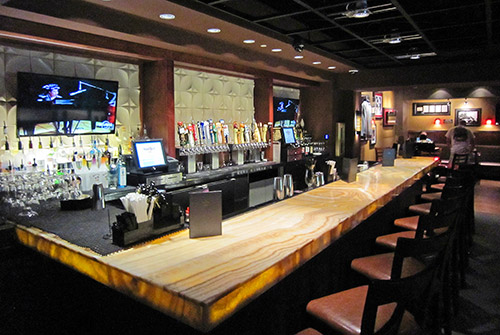 The small upper bar is still pretty sweet.
The main lobby entrance to the Four Winds Casino.
Arched wood walkway leads you from the parking garage to the gaming floor.
Location Map...
Former Address: 11111 Wilson Rd., New Buffalo, MI 49117
Former Coordinates: 41.781854, -86.709670