About Me…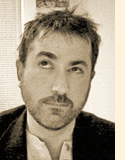 My name is David Simmer II, probably better known as "Dave2" from
Blogography.
While vacationing with friends in Maui (circa August 1990), we were wandering around Lahaina looking for a place to eat. As we came to the end of the Front Street tourist shopping district, one of us spied a place called "Hard Rock Cafe" in an unassuming building across the street. It sounded like fun, so away we went.
Little did I realize how my life would change after that moment.
At the time I remember thinking "The Hard Rock Cafe is such a great idea… it's like eating in the middle of a Rock-n-Roll museum!" I hadn't seen anything like it, and was so impressed I bought a couple pins at the gift shop. When we went back to Lahaina a few days later, I ended up buying a denim jacket that I still have today.
When I got back home, I discovered that there were 22 other Hard Rock Cafes around the world. But none of them were in Seattle, which is why I hadn't heard of them before. Some were in places I might visit one day (San Francisco, New York, Chicago)… but others seemed like impossible destinations I'd never see (Reykjavik, Stockholm, Singapore).
How wrong I was.
As time went on, I started traveling more and more, and managed to see some Hard Rock Cafes along the way. Pretty soon I found myself traveling to places specifically to see the cafes there. By that point I was becoming obsessed, and set a goal to visit 50 properties before the end of the year 2000, 10 years after my first visit in Maui. That I did in December of 2000 when I vacationed in Rome, Italy. I always thought that once I reached my goal, that would be the end of it all, but I was wrong again. I kept going, visited properties around the globe and adding to my growing collection of pins, T-shirts, and glassware.
I owe a great debt to the Hard Rock Cafe for exposing me to places I probably never would have seen if not for their restaurants, hotels, and such. Amazing places like Warsaw, Poland… Bali, Indonesia… and Lisbon, Portugal (to name a few). Even nifty places here in the USA that I never would have gone to if not for checking another cafe off my list. I may go for the Hard Rock, but I always stay for all the other wonders these places offer.
And there are still so many places yet to see.

A Few of My Favorite Things…

There are very few Hard Rock properties I've visited that I haven't enjoyed. Sure the new trend in cafe design is disturbing (it's all sizzle over substance… where's the memorabilia?) but overall I find that they do a really good job of making their various properties interesting and giving them great locations. Even the worst cafe has had something that makes it worth visiting. With that in mind, here are a dozen of my favorites (in the order that I visited them)…